Industrial Internet brings together machines, advanced analytics and people. It enables new revenue generating products and services and can be used to optimize existing processes to improve productivity. Industrial Internet is actually a mission-critical business platform, where smooth and interruption-free operations are essential.
The requirements for technology used in Industrial Internet are significantly stricter than in consumer oriented Internet of Things (IoT), which refers to smart everyday things that can be connected to internet – home appliances, fitness bands and so on.
Added value of Industrial Internet grows with the connectivity
Industrial Internet applications have strict requirements
Latest IT and connectivity solutions enable rapid increase of Industrial Internet applications. Business-critical nature of the applications call for very hard requirements for connectivity, reliability and security.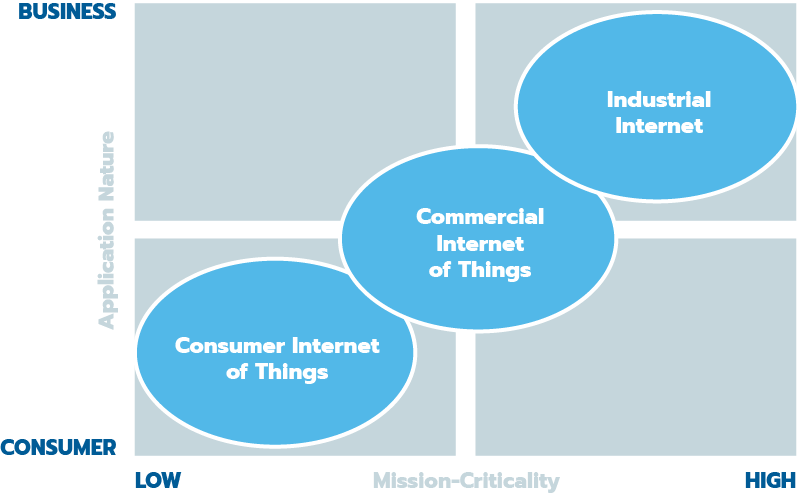 The key aspect is connectivity. If connectivity is lost, it often leads to direct monetary losses –very often also to loss of time, brand value and customer satisfaction. Industrial Internet application should have the highest availability under all circumstances.
Cyber security is a major concern for businesses everywhere – growth of new malware, ransomware attacks, cyber espionage, hactivism, cyber warfare, phishing… The number of attacks has constantly been growing. Cyber security concerns related to Industrial Internet applications are highlighted when connectivity is based on public networks that are open to all internet traffic and thus also for potential threats.
The answer: Reliable and secure radio technology
We at SATEL provide radio technology that secure wireless connectivity solutions for mission-critical industrial applications.  We have 30 years' experience in providing wireless connectivity for demanding industrial applications. Our solutions are known for their quality, reliability and near 100% availability.
With our private networks, you can also control the traffic volume and calculate for possible disaster scenarios. The network can be tailored to meet the specific connectivity demands of the application and its traffic profile in all situations, e.g. availability, delay, predictability.
SATEL  solutions also include support for cellular networks, which provides additional benefits: Usage of existing infrastructure provides easy access to connectivity.
Our connectivity solution has comprehensive built-in security: VPN connectivity, state of the art encryption technologies, firewall, user authentication, security auditing process, data and management separation.
We have a long experience in multi-technology solutions. A fundamental security benefit is that the private network can be totally independent and disconnected from public internet or e.g. cellular network services. On the other hand, it can also be complemented by public networks and work with adjacent connectivity technologies, if wanted.
We can offer you a complete connectivity solution that meets the requirements of your specific Industrial Internet needs and maximizes the productivity of Industrial Internet while also minimizing the life cycle connectivity costs.
Industrial Internet solutions in practice
Smart harbor:
Radio technology is used in logistics to give accurate, real-time location data, help stock management and to add reliability. It also enables safe and secure automated movement and mobility of the harbor vehicles, providing savings in efficiency and safety of the terminal operations. Harbor logistics become smarter: optimization of lading and unlading and exact location of the containers at all times.
Smart agriculture:
Radio technology plays an important part in optimization of field work and machine usage and maintenance, which can bring remarkable efficiency gains and savings in the operations while also making farming more environmentally friendly.
Smart energy:
Today smart grids need to be much smarter than before. Smart energy includes remote monitoring and controlling of different equipment in electricity network and capability to do automatic and manual actions based on the received information from the power grid. Radio technology improves reliability and has significant benefits that lead to savings:
Avoiding delays in fault localization, isolation and restoration
No loss of distributed energy leading to loss of revenue
Minimizing outage, down time of energy distribution
Avoiding possible penalties or fines
Reducing human workforce costs caused by faults
Smart water:
Radio technology in smart water is used in measurements, sensor reading, pump and valve control. For example, in the water distribution network, the pipeline system is the most valuable asset of the water company. Mission-critical Industrial Internet connectivity helps reliably monitor vital information, such as pressure and pressure hits in real time and securely. Quick reactions to critical events as well as monitoring and keeping track of the health status of the pipeline system in the long run are possible. All this can lead to remarkable energy savings, extended lifetime of the wells and also to cleaner water.
Smart mobility:
Smart mobility with the help of radio technology is making transportation more fluent and efficient. It means lesser fuel consumption, reduced travel time and less traffic jams, increased work efficiency and reducing air pollution. For public safety operations, it enables faster and safer response. Traffic light priority given to public transportation and emergency vehicles is a good example of what smart mobility is.
Smart city:
Smart city refers to developing cities in an innovative way by integrating information and communication technology and Industrial Internet. The goal is to make cities more functional and energy efficient and at the same time improve the quality of life. Smart city includes information systems, transportation systems, energy sector, water supply networks, waste management and many other community services that benefit from the use of radio technology.
Interested?
If you want to know how we can support your business in a smart way, please contact us here at SATEL or our local distributor in your own country.
For more information about our smart SATEL XPRS solution, click here.