SATEL NETCO DESIGN is an intuitive and user-friendly software for network design, configuration and management. It supports the SATEL XPRS radio family for IP communication configuration (L2 or L3) and SATEL radio modems with routing feature support, such like SATEL-EASy+.
The user interface of the product is web browser -based and can therefore be used both locally and remotely. Design with graphical user interface for easy optimizing network design and deployment in a few simple steps, with local and remote connection to SATEL radios.
SATEL NETCO DESIGN supports importing also .saxd file format, files created with the SATEL NMS PC software.
Installation requires valid, company specific license key. For Win10/11 64-bit OS.
To increase trust and improve security SATEL has adopted Entrust Extended Validation Code Signing CA with SATEL NETCO DESIGN software.
Software and license key available by request from your local SATEL distributor.
SATEL NETCO DESIGN introduction video: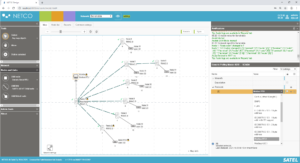 CONTACT US